How to The popular Fukagawa-meshi made with Asari is only 15 minutes. Let's try to increase the taste and volume without the need for soup stock by fried tofu. Introducing a substitute for mentsuyu for the day you want to make more easily. This is a popular recipe for Asari-don that you should definitely enjoy at home.
How to make Asari Don! Donburi recipe that can be made in 15 minutes
It goes without saying that the taste of lajonkairia lajonkairia . And even the ingredients that tend to be lonely if only lajonkairia lajonkairia lajonkairia lajonkairia lajonkairia lajonkairia lajonkairia lajonkairia lajonkairia lajonkairia lajonkairia lajonkairia lajonkairia.
There seems to be a distinction between "Fukagawa-meshi" for soy sauce-flavored rice and "Fukagawa-meshi" for miso-flavored bukkake rice, but this time we will introduce a changeable Fukagawa-meshi that is a thickened soy sauce-based broth. .. Please try it during the delicious season of Asari.
Check Out | 4 juicy chicken nanban recipes! From basic to unusual
Fukagawa-meshi style simple asari bowl ingredients (for 2 people )
Ingredients for Asari bowl
| | |
| --- | --- |
| Asari | (Peeled meat) 100g ~ * Approximately 200g with shell. |
| Fried tofu | 1 sheet |
| Green onions | 1/2 |
| soy sauce | 1 tablespoon |
| Liquor | 1 tablespoon |
| sweet sake | 1 tablespoon |
| water | 200cc |
| potato starch | (Water-soluble potato starch) 1: 1 teaspoon of potato starch: 2 teaspoons of water |
| cooked rice | 2 bowls |
* For Kujo green onions and scallions, 2 to 3 green onions are a guide.
How to make Fukagawa-meshi-style simple Asari-don
How to make Asari Don
1:Prepare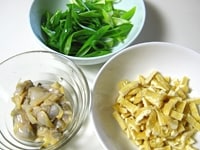 Rinse the peeled meat quickly and drain it. Slice the green onions diagonally. Cut the fried tofu into small strips (or coarsely chopped).
When using fried tofu with a large amount of oil, sprinkle boiling water in advance to drain the oil.[Draining the sand from the clams] Arrange the well-washed shellfish on a flat bat, pour 3% salt water (300cc of water + 9g of salt, 2 teaspoons) into the pan, and leave it for about 2 hours.
2:Boil
Put water, soy sauce, sake, and mirin in a pan or frying pan, add asari and fried tofu, and simmer on medium heat for 4 to 5 minutes.
If you are concerned about the smell of asari, you can add a little grated ginger.[Substitute for mentsuyu] 1 tablespoon of soy sauce, 1 tablespoon of sake, and 1 tablespoon of mirin can be replaced with 3 tablespoons of mentsuyu (three times concentrated).
3:Thicken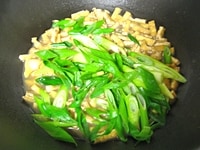 Add green onions and simmer for another 1-2 minutes. Add water-soluble potato starch to thicken it.Even if you leave a little blue part for decoration.
4:Complete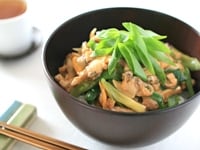 Serve rice on a bowl and sprinkle with green onions. If you like, you can also sprinkle with Japanese pepper or shichimi pepper to make it delicious.